Kinefinity KineMAG Nano is the new recording media for Kinefinity cameras and in this articel we will explain all the ins and outs!
For the all new Kinefinity MAVO edge 8K and Kinefinity MAVO Edge 6K camera, Kinefinity had to come up with a completely new recording media. On the Mavo LF – with its 6k resolution – the Sata SSD's were already starting to bottleneck, and were struggling to keep up with the beefy Apple Prores codec's, especially in 4444XQ and in higher FPS in open gate resolutions.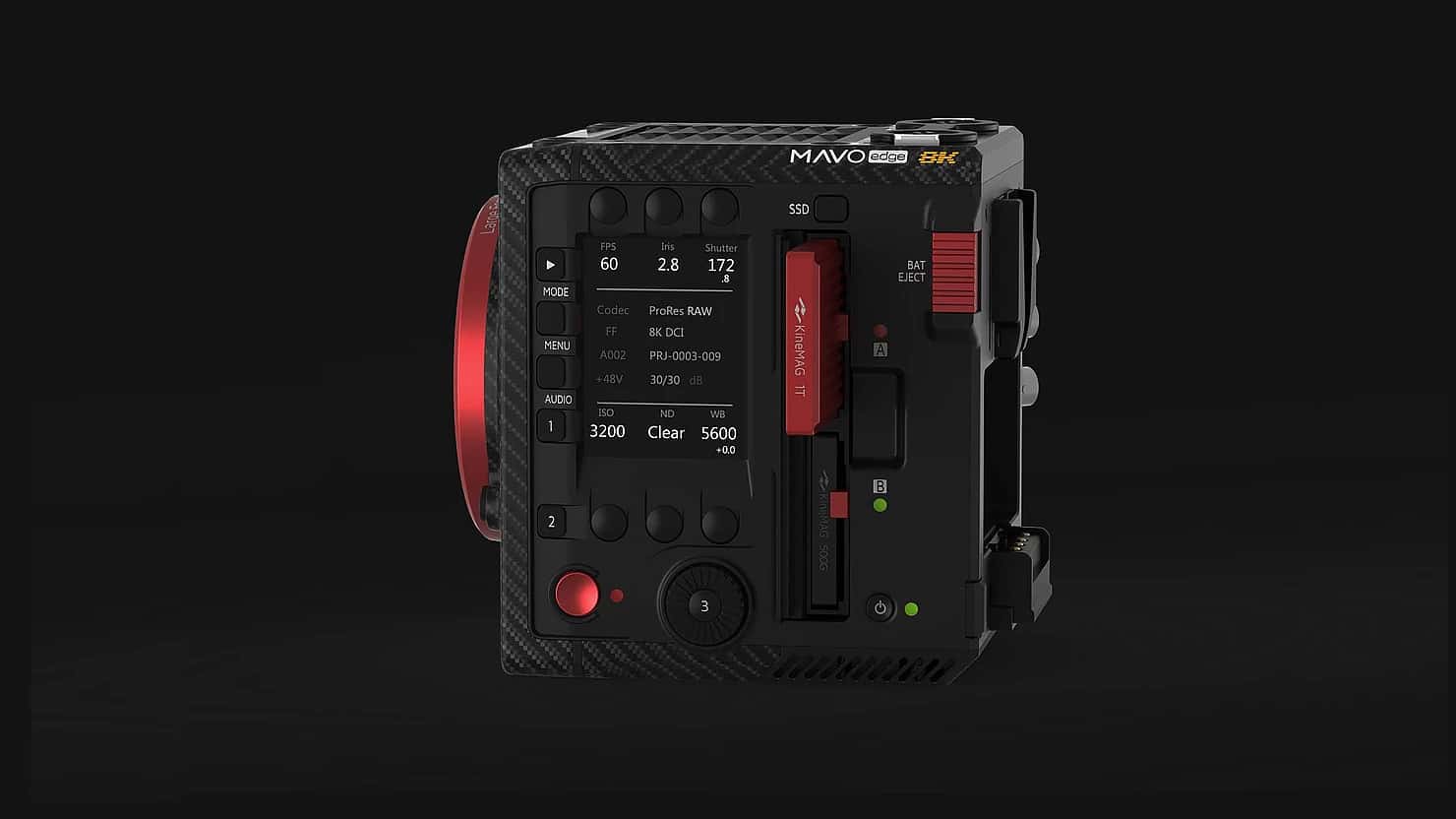 Data streams
Just to get a general idea of data streams:
6K resolution is 2.5 times more data than 4K resolution, and 8K resolution is 4 times more data than 4K resolution.
Event hough you can compress a 8k data stream; after too much compression there's basically no 8K resolution anymore. The same goes for YouTube; When you think you're watching 4k footage, it's effectively not more than 2k at its maximum.
Compression will group pixels and make them act the same, so let's not fool ourselves.
Kinefinity KineMAG Nano
To process 8K and offer more freedom in encoding and codecs like uncompressed DNG, Kinefinity upgraded their media storage to a NVMe M.2. based media card called KineMAG Nano. To ensure that the full potential of these cards is enabled, MAVO Edge will feature a PCle 3.0interface which allows the whole-new KineMAG Nano to record footage at lightning speed of 10Gb/s. For those who are not too much into computer language 10 Gigabit = 1.25 Gigabyte per second.
Example: when recording in 25 fps the maximum data per frame is 50Mb.
Smaller size
Due to the usage of the relatively new NVMe M.2, Kinefinity was able to reduce the size of the KineMAG Nano by 50% compared to their previous media card. Thanks to the smaller form factor of the KineMAG Nano, the MAVO Edge is able to adopt the dual media slot design like KineRAW-S35, first-generation cine camera introduced in 2012.
Dual slot
The dual slots design of the Kinefinity MAVO edge allows for two KineMAG Nano's to record the same clips simultaneously and form an extra RAID1.0 backup to avoid missing clips (coming in q2 2023). Furthermore, two cards can record the main codec and H264 proxies separately, to make the post-editing workflow much easier (coming q2 2023). With those h264 you could opt for a so called Offline Edit.
NVMe M.2 & KineMAG Nano
NVMe M.2 is opposed to Sata ssd 2.5 inch not intended to be inserted in a traditional way. Therefor Kinefinity had to come up with a solid enclosure. Additionally, Kinefinity also offers KineMAG Nano enclosures so users could purchase and install third-party NVMe M.2 SSD on their own to save the cost for storage media.
Potentially most NVMe M.2 cards are faster than the PCIE 3 connector inside the MAVO edge can handle. To be more precise any NVME M.2. thats durable and faster than 1.25 Gigabyte per second (10 Gigabit) will be more than capable to be used inside the KineMAG Nano enclosure. Another great feature of the Kinemag nano enclosure is that equals a card reader and has a blazing fast usb-c connector for ofloading data.
KineMAG Nano 1tb
The new generation KineMAG SSD, KineMAG Nano is exclusively designed for MAVO Edge 8K. The KineMAG Nano 1TB with pre installed media is composed of a KineMAG Nano Body and an M.2¹ 2280 SSD using NVMe² protocol, with a transfer speed up to 10Gbps, which greatly improves the freedom of high resolution and frame rate encoding while the size of NVMe M.2 SSD is significantly smaller compared to that of the SATA SSD.
Two high-speed ports are fitted into the KineMAG Nano (same as on the body only version): a robust camera port that records the footage from MAVO Edge 8K to KineMAG Nano, and a universal USB-C³ port that offloads and backs up the data to the workstation. The USB-C port supports the USB3.1 Gen2 protocol, which allows the KineMAG Nano to offload data to the workstation at a cutting-edge speed of 10Gbps without a dedicated SSD reader.
KineMAG Nano 1TB has a built-in NVMe M.2 1TB SSD that is specially optimized, which gives the KineMAG Nano two superior safety features: Read-only and RAID 5⁴, which improves the safeness and robustness of the KineMAG Nano while copying or writing to the SSD at a blazing fast speed in the camera, allowing you to create contents without worrying about the safety of the SSD. Basically the card is 1.5tb but a large portion of the card is deployed for Raid 5.0 redundancy.
Read-only
The specially optimized NVMe M.2 1TB SSD which was built into the KineMAG Nano gives the KineMAG Nano involuntary Read-only feature: the KineMAG Nano can only be formatted or written in the MAVO Edge 8K. When offloading data through the USB-C port, you can only read the footage in the SSD, but not write to the SSD. The Read-only feature eliminates the risk of accidental deletion or even formatting of the data after the SSD leaves the camera, which greatly improves the safety of the data during the backup or transfer process.
In comparison; most SSDs (like the old Kinemag) will provide Read/Write speeds in the neighborhood of 530/500 MB/s. For comparison, a old fashioned 7200 RPM SATA drive manages around 100MB/s depending on age, condition, and level of fragmentation. A lot of NVMe drives, on the other hand, provide write speeds as high as 3500MB/s (3.5 Gigabyte or 28 gigabit).
Cardreader
Both the kinemag nano body enclosure and the Red kinemag with pre installed raid5.0/read only media have an usb-c port for 10Gb/s (1024 mb per seconds) , so no additional cardreader is needed, just a cable!
Pricing
To get an idea of how cost effective Kinemag Nano will be lets have a look at the highly regarded Samsung evo 970 NVMe M.2 card which retails for €94 euro ex. VAT. This card can write up to 2500 Mb per second (2.5 Gigabyte per second), so fast enough to be used in conjunction with the MAVO edge. We don't know the pricing for the enclosure but it will be very cost effective since Kinefinity isn't a company that monetizes their recording media.
the Kinemag Nano Body (empty enclosure) can be purchased for 199 euro.
The Kinemag Nano 1tb retails for 999 euro.
Comparison
To round up lets do a small comparison with other companies who have their own recording media. ARRI for instances uses CODEX cards for their ARRIRAW with maximum write speed of 1 Gigabyte per second (8 gigabit). RED uses on their existing line-up (the Komodo will use CFast) the so called REDMAG with maximum write speeds of 300 megabyte per second (2,4 Gigabit). A REDMAG 480 GB retails for $1450,- and has to be used in conjunction with a Redstation ($195,-).
For now KineMAG Nano seems to be the fastest proprietary recording media around. And potentially this could even be faster with newer camera models enabling PCI-E 4.0 which can increase data rates by a number of 3.
Conclusion
The biggest question remains if we need 8k resolution and how we handle this amount of data and how we upgrade our computers in order to playback, edit, process and export 8K footage. Those questions will be answered in new upcoming GAFPA SCHOOL essays.
For more info about the Kinefinity MAVO edge click here.
Stay tuned and Stay Save.