Description
The MAVO Edge 6K Cyber edition is a special RAW steel edition, and only differs in terms of material finish compared to the default deep grey version.
The Kinefinity MAVO Edge 6K is a brand new large format cinema camera. Based on the high-performance computing platform of the MAVO Edge, the MAVO Edge 6K is Kinefinity's latest product from its series. With its stunning image quality, the MAVO Edge 6K is equipped with a 6K full-frame 36X24mm 3:2 CMOS image sensor that features a dual native ISO gain architecture (800/5120). The MAVO Edge 6K has excellent highlight performance under various sensitivity settings, guaranteeing both sharp and smooth images with accurate skin tone and natural color reproduction. The MAVO Edge 6K has an internal full-spectrum e-ND (0.6-2.4). It features a lot of integrated ports compliant with industry standard ports like 3g sdi, timecode and uses a dual SSD system which supports NVMe M.2 2280 SSD. It is capable of recording Apple ProRes4444/XQ and uncompressed RAW. Weighing in at only 1.6 kg, this compact camera body boasts powerful performance and versatility as it adapts to demanding shooting conditions.
Outstanding Highlight Performance with Stunning Image Quality
The MAVO Edge 6K is the latest large format camera from Kinefinity since the release of the MAVO LF and MAVO Edge 8K, and it uses a full-frame CMOS image sensor which features advanced color processing architecture that creates images with low noise, high latitude, and wide color gamut. The great thing about such a large sensor and high resolution is that you can crop to other industry stand formats like s35 and still deliver in 4k. Users will get sharp, smooth and high resolution images with accurate color and skin tone and no artifacts like aliasing due to a optimized high grade OLPF (optical low pass filter).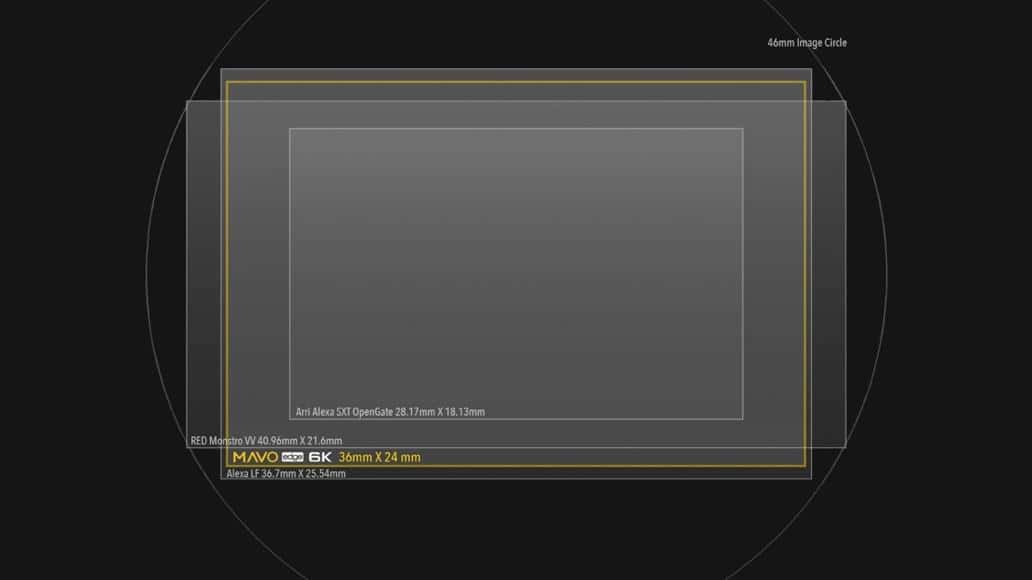 The MAVO Edge 6K is equipped with a dual native ISO sensor, rated at 800 and 5120 ISO. While high ISO has become the industry standard, the second base native ISO 5120 is still quite something considering it retains almost all dynamic range compared to it's first base iso, without having to utilize heavy ugly noise reductions. This camera  is perfect for low light scenes to obtain a clean image with high latitude and low noise, making it an ideal camera for documentary filmmakers or those who favor available light during night shoots. While the MAVO LF shares the same ISO rating, the MAVO Edge 6K outperforms its predecessor when it comes to highlight performance. At the industry standard ISO 800, the default highlight allocation of the Edge 6K is 6.0 stops, which is 1.7 stops more compared to the MAVO LF, rendering more highlight details while simultaneously providing rich and clean shadow detail. Switch to Cine EI mode for more of a traditional cinema camera experience and the highlight stops will adjust automatically as the EI setting changes. While using Cine EI mode, the second base native ISO 5120 is still activated when you go past 1600 EI.  
Apple ProRes Recording Codec and Uncompressed RAW*
From 10-bit Apple ProRes422 LT to 12-bit ProRes4444 XQ and uncompressed RAW codec, the MAVO Edge 6K is capable of recording high-resolution images with great dynamic range with low to zero compression artifacts.
Apple ProRes is an universal intermediate codec created by Apple Inc, and it quickly became the standard in Hollywood. Almost all post-production software in the film industry supports editing and color correction with Apple ProRes. The MAVO Edge 6K supports 12-bit ProRes4444XQ in all large format frame rates and resolutions, and it records Kine LOG3 Gamma to preserve all the dynamic range data captured by its CMOS image sensor. Compared to Raw imaging and other intermediate codecs, Apple ProRes can achieve a faster workflow in post-production since the images already went through a debayer process, especially while working with Apple workstations that use Apple M1 Pro/Max/Ultra chips. It makes proxy-free editing and color correction quick, stutter free and efficient, saving a significant amount of time in post production.  
The uncompressed RAW codec is not debayered internally,  instead it is saved in the CinemaDNG format, preserving uncompressed and unprocessed image data captured by the sensor. Theoretically, it provides the maximum adjustability for color correction in post production. Uncompressed Raw footage demands high bandwidth bitrate processing. The MAVO Edge 6K is equipped with a dual SSD slot based on PCIe-3.0 and its proprietary media, KineMAG Nano 1TB, is based on NVMe M.2 2280 SSD protocol, making sure recording uncompressed raw is fast and secure. 
From capturing uncompressed raw image data to encoding 6K ProRes4444XQ .MOV files, the processing of high bandwidth bitrates all happens internally within the compact body of the MAVO Edge 6k. 
*The Uncompressed RAW is expected to be officially launched in Q2 2022.
Touch Interactive KineOS Firmware
The MAVO Edge 6K is implemented with the latest KineOS 7.0 firmware, which has a redesigned user interface that focuses on touch control experience. The new KineMON-5U2 and 7U2 touchscreen monitors help to improve the user's interactive experience with the camera.
The new interface design allows the user to control the entire functionality of the camera using only the touch screen monitor. Frame rate, shutter angle, ISO, aperture, ND strength, color temperature, LUTs, and audio levels can all be adjusted via touch screen control, making it easy for cinematographers to set up all of the parameters quickly.
KineOS7.0 also changes the horizontal selection to vertical selection with an optimized interface and new font design. 
In addition to the new UI, the MAVO Edge 6K firmware has made many technological breakthroughs. KineOS 7.0 supports Cooke/i protocol which enables the camera to record and save lens metadata into the QuickTime .MOV file. This greatly improves the efficiency of VFX workflow. Recording media (Kinemag Nano) supports both NTFS and HFS file systems, giving filmmakers more storage options. 
The MAVO Edge 6K will also implement the "pre-recording" function through a firmware upgrade. It ensures the cinematographer will not miss a shot during unpredictable scenes, providing a useful solution when shooting live events and documentaries.
*The pre-recording function is expected to be officially launched in Q3 2022.
Compact Camera Body with Internal e-ND
The MAVO Edge 6K inherits the integrated body design of Kinefinity's previous flagship product, the MAVO Edge 8K, which has won the prestigious iF DESIGN AWARD 2021. The compact camera body of the MAVO Edge 6K only weighs 1.6kg(3.6lbs), and it is equipped with a full-spectrum e-ND, dual SDI ports, general sync and control ports, and multi-channel audio tracks, as well as powerful wired and wireless functions. Proprietary Kine video ports are independent from SDI outputs and can be connected to the Kinefinity touch screen monitor and OLED EVF.
Internal motorized full-spectrum e-ND system
The MAVO Edge 6K employs a motorized full-spectrum internal e-ND system. The e-ND filter ranges from 0.6 to 2.4 which is a range from 2-8 stops neutral density. Itcan be adjusted by 0.03 increments, giving the user precise exposure control. As the strength is adjusted, it ensures consistent color accuracy and uncompromised sharpness of the image.
Significant Improvement to Media
The MAVO Edge 6K is equipped with a dual SSD slot based on PCIe-3.0 and its proprietary media, KineMAG Nano 1TB, is based on NVMe M.2 2280 SSD protocol with transfer speeds up to 10Gbps. Recording 6K ProRes4444XQ and 6K uncompressed RAW is swift and stable with KineMAG Nano 1TB. Kinefinity also sells a KineMAG Nano Body for the user to purchase and install third-party NVMe M.2 2280 SSDs, which provides more customizable storage possibilities. The body of the KineMAG Nano is equipped with a robust camera port as well as a universal USB-C port, negating the use of a separate SSD reader. The Kinemag Nano allows users to offload data to the workstation at a speed of up to 10Gbps by directly attaching a USB-C cable to the card.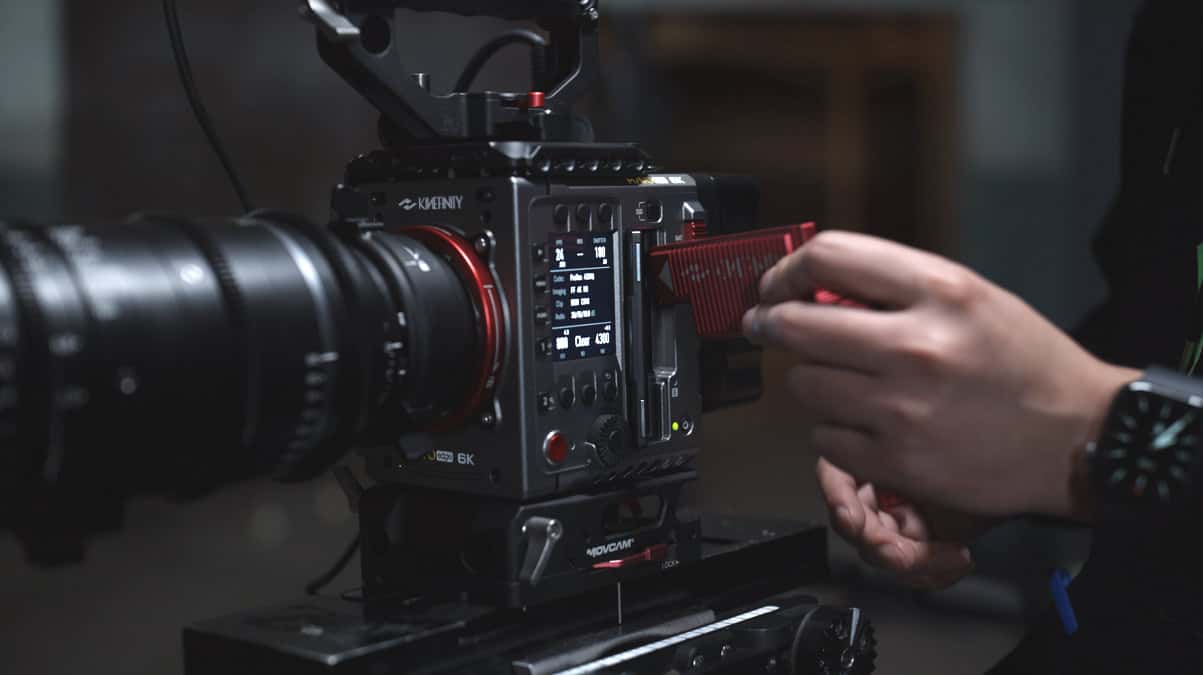 Dual independent SDI outputs
The MAVO Edge 6K provides dual 1.5G/3G SDI outputs with metadata and audio transmission. These two outputs are independent of the Kine video ports, enhancing the compatibility with third-party accessories such as external monitor recorders and monitors that only support 1.5G SDI. The two proprietary video ports of the MAVO Edge 6K can be connected to the KineEVF Full-HD OLED viewfinder and the KineMON-5U2/KineMON-7U2 Ultra-Bright (2000 nits) monitor that gives you sharp and clear images even in harsh, outdoor lighting.
General sync and control ports
 There are numerous ports integrated on the MAVO Edge 6K body: timecode sync ports are not only capable of syncing multiple equipment simultaneously, but it also supports Jam Sync; an RS232 protocol port for communicating with and controlling third-party accessories, and an RS port for powering and triggering an external record function.
High-quality multi-channel audio record
The MAVO Edge 6K supports four-channel 24bits /48kHz audio recording with a 3.5mm stereo MIC jack and an in-camera high-quality MIC for reference sound. Audio pre-amplifiers with a low noise floor are integrated into the camera body. Two independently controlled 48V phantom powered XLR sockets offer great convenience for field sound recording and even professional audio recording.
Powerful wired and wireless function
With Gigabit Ethernet on RJ45 port, WIFI 5 wireless network, and type-c USB socket, the MAVO Edge 6K can output a monitoring/recording image to other devices by live streaming internal processing H.264 codec. Simultaneously, an internal three-axis gyroscope can record the camera's spatial positioning information, which is saved to a text file along with the project information. 
Comprehensive Power Solution
The MAVO Edge 6K offers an innovative hybrid battery plate to accommodate power demands in various shooting scenarios. The hybrid battery plate supports 14.8V V-mount batteries like KineBAT PD 75w/150w. It also supports Sony BP-U type batteries like GripBAT 4S to meet the power demand of complicated camera setups that require a light build. With the addition of Movcam's cage, the KineKit-Edge, NP-F550 type batteries like GripBAT 2S can support an Uninterruptible power supply to the camera via the optional Movcam UPS Baseplate. In addition, MAVO Edge 6K's body offers a standard D-Tap port, 12V RS port, and Lens port (12V) to power third-party accessories like wireless video transmitters and wireless follow focus systems. These ports eliminate the need for extra batteries, simplifying the process of camera setups while improving the system's stability. 
With the release of the MAVO Edge 6K, Kinefinity has collaborated with many well-known manufacturers in the industry to provide various high-quality complex imaging solutions for its users.
Dedicated to high-quality photography and cinematography equipment for filmmaking, Tilta designed a professional kit for the MAVO Edge 6K that shares a similar design language that Tilta previously used to build the CMG MAVO Edge 8K system. This kit was made for space travel using the MAVO Edge 8K in space, they took the inspiration from this and made a commercial version of it focusing on chest handheld shooting, ensuring capturing every shot is enjoyable and comfortable. You can find some examples of the newly available kit under the ' tab'  Accessories. These kits will also fit the MAVO Edge 8K since both cameras have the exact same dimensions and placement of buttons and threaded holes.
Focusing on streamlining camera equipment and accessories for filmmaking, SmallRig has created a professional kit for the MAVO Edge 6K. This new product is suitable for shooting on tripods, shoulder rigs, and handheld rigs, providing comprehensive solutions for creators to capture wonderful images.
Kinefinity has also teamed up with Yueliu, an audio and video collaborative workflow platform, to perfect cinema camera "native cloud monitoring" functionality. Compared to other "cloud monitoring" systems, the MAVO Edge 6K does not require an external image transmitting device. It can instantly stream native audio and high-quality video data to the streaming page, authorized websites, and client servers with low latency, making it possible to monitor live, high resolution footage instantly anywhere and anytime.
MAVO Edge 6K is the latest full-frame 6K cinema camera from Kinefinity. It can record exceptional high resolution and stunning image quality up to 6K Wide at 75fps/ 4K Wide at 160fp in Apple ProRes4444XQ or uncompressed RAW. Edge 6K is also equipped with internal motorized full-spectrum e-ND (0.6-2.4), integrated with wireless and industry standard ports and a dual SSD system that supports NVMe M.2 2280 SSD. 
With a brand new interface design, KineOS 7.0 not only helps video creators to shoot exceptional work but also frees filmmakers from the burden of the traditional cine camera equipment. 
About Kinefinity 
Since 2012, Kinefinity has been dedicated to the development, manufacture, and design of digital cinema cameras, and has become one of the leading cinema camera companies around the world. Located in Beijing, Kinefinity is involved in research and development, manufacture, sales, marketing, and customer service. Kinefinity not only has KineRental that provides rental services in major cities around China but also a major marketing and support network in North America and Europe, providing professional cinema camera solutions for creators around the world.
Note: ALL SPECIFICATIONS SHOWN ARE PRELIMINARY AND SUBJECT TO CHANGE WITHOUT NOTICE.
Kinefinity Mavo Edge 6k Cyber Edition body Only
– Kinefinity Mavo Edge 6k body
€9999,00 ex Vat
Kinefinity Mavo Edge 6k Cyber Edition Core Package
– Kinefinity MAVO Edge 6k body
– KineEVF (only EVF)
– Video Cord 0.3m
– KineMAG Nano 1TB
– GripBAT 4S Pack (2x 4S + 1x dual charger)
– Enclosed Top Handgrip
– Nato Rail
– Top Plate
– Mini EVF Bracket
€14.099,00 ex Vat
Kinefinity Mavo Edge 6k Cyber EditionProfessional Package
– Kinefinity MAVO Edge 6k body
– KineEVF (EVF only)
– Kine Video Cord 0.3m
– 2x KineMAG Nano 1TB
– KineBAT 150 Pack (2x 150 + 2x USB-C charger)
– GripBAT 4S Pack (2x 4S + dual charger)
– KineKIT-Edge
– 100W Power Cable
– GripBAT 2S Pack (2x 2S + dual charger)
– KineMON-5U Complete Pack
– Solid Case
€16.699,00 ex Vat